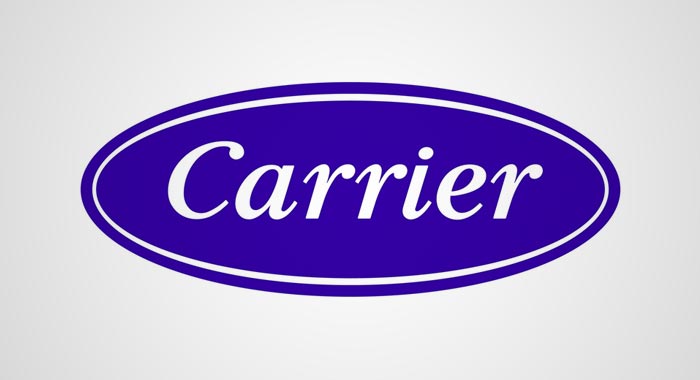 The first mechanical air conditioning unit was invented by Willis Haviland Carrier in 1902 and the company is still at the forefront of research and development in the air conditioning industry today with over three hundred US patents.
One of Carrier Air Conditioning's exceptional achievements is the realisation of their environmental strategy that was created a decade ago. Carrier air conditioning is clearly a leading developer of new products but environmental protection is also high on the agenda for their research team.The air conditioning company is now twice the size than it was ten years ago but the energy consumption has remained the same. This was possible due to energy efficient products such as the Carrier Chiller that now uses only one-tenth power consumption compared to the same unit coming off the production line back in 1999.
HVAC Products by Carrier
Premiair Ltd supply and install all Carrier products for air conditioning or process cooling applications.
Here is a brief list of some popular HVAC products by Carrier Air Conditioning:
Air cooled chillers for air-con and process cooling
Water cooled chillers for air-con and process cooling
Condensing units
Fan coil units
Indoor, rooftop and outdoor packaged heat pump units
Split system air to air heat pumps
Split system air cooled condensing units
Building Energy Management Systems (BEMS)
Carrier Chillers
Carrier Quality
As a hallmark of superior quality, seventy percent of HVAC products used at the Beijing Olympics 2008 were manufactured by Carrier; this included the stadium air conditioning system for the famous Birds Nest venue. Carrier integrated systems were also used for heating, ventilating and air conditioning at the Olympics in 2000 at Barcelona and 2004 in Athens. Premiair Ltd expect to see Carrier once again at the London Olympics 2012!
Contact Premiair Refrigeration and Air Conditioning today on 01908 380345 to find out how Carrier HVAC systems can provide you with a complete heating and cooling solution.